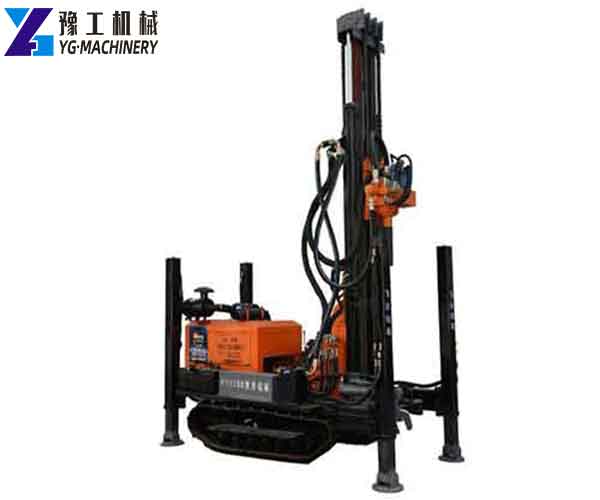 Last year, a customer from Pakistan sent us an email telling us that he needed a drilling rig. After saying his request, our sales manager recommended a crawler water well drilling rig to him and sent the technical parameters of the machine. Customers are also very satisfied after seeing it. However, customers still want to come to our factory for field visits. After expressing this idea to us, our sales manager communicated with the customer for a good time. In July, the customer came to China and we warmly received him. Coincidentally, when he arrived at our company, we were conducting a group activity organized by employees. We invited him to join us for a wonderful day. The next day, our sales managers and customers went to the factory, and our machines were highly recognized by our customers. The customers were satisfied with both the simple operation and quality problems. He immediately set up an FYX-180 crawler water well drilling rig.
Technical Parameter of FYX-180 Crawler Water Well Drilling Rig
| | |
| --- | --- |
| Model | FYX-180 |
| Drilling hole diameter | 140-254mm |
| Drilling depth | 180m |
| One-time advance length | 3.4m |
| Walking speed | 2.5km/h |
| Climbing angles (Max.) | 30 |
| Equipped capacitor | 55kw |
| Using air pressure | 1.7-2.5mpa |
| Air consumption | 17-31m³/min |
| Drill pipe length | 1.5m, 2.0m, 3.0m |
| Drill pipe diameter | 76mm, 89mm |
| Rig lifting force | 15t |
| Swing speed | 45-65rpm |
| Swing torque | 3200-4600(N.m) |
| Dimension | 3800*1500*2200mm |
| Weight | 4500kg |
The FY series water well drilling rig is a light, efficient and multifunctional drilling and drilling equipment powered by diesel engines. It is mainly suitable for drilling wells, agricultural irrigation wells, and other well holes. It is especially suitable for water intake engineering in the mountain areas and rock stratum. This series of drilling well rigs adopt new hydraulic technology, which is equipped with high torque hydraulic motor rotary and large cylinder diameter hydraulic cylinder advancement. All drilling rigs need to be used with an air compressor.
If you would like more information on prices and more, please request a quote for free, details such as model and quantity. In fact, in addition to crawler drills, we have built many other types of drills, such as water well drilling rigs, DTH drilling rigs, core drilling rigs, rock drills, and so on. If you need more information, please do not hesitate to contact us.
[contact-form-7 404 "Not Found"]