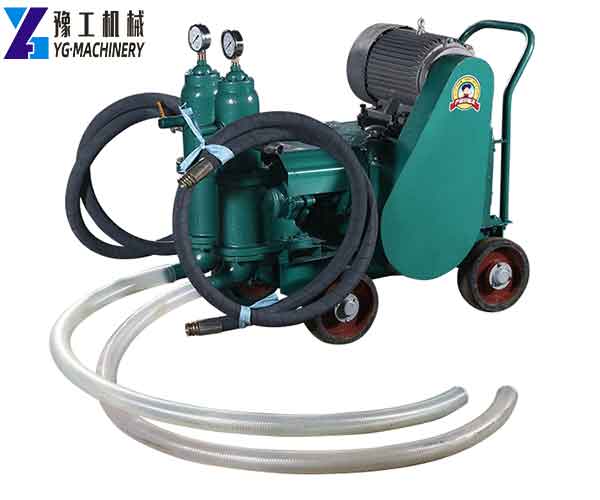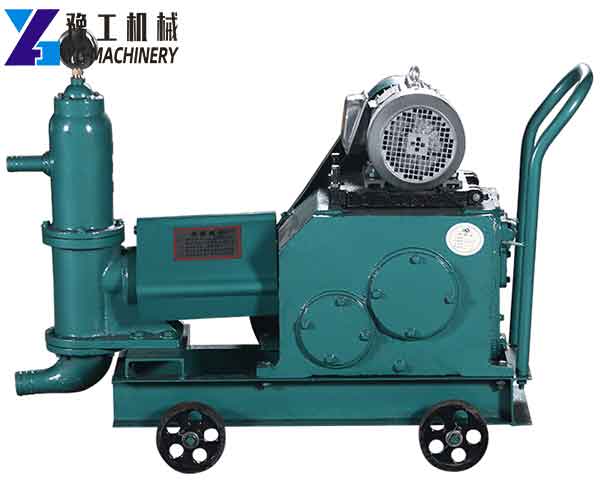 The hydraulic piston pump is a single-cylinder piston mortar pump for conveying mortar and spraying operations. It is the ideal high-performance cement grout pump at home and abroad. Widely used in highways, bridges, municipal construction, tunnels, etc. Ports, DAMS, subway, underground construction, and construction products, such as grouting pressure, high pressure, high production efficiency, compact structure, reliable performance, safe and convenient operation, wheel design, easy to move to wait.【WhatsApp/WeChat/Phone/Skype】+86 136 1385 6800
Hydraulic Piston Pump Parameters:
| | | |
| --- | --- | --- |
| Model | YGB-3 | YGB-6 |
| Conveying output(kW) | 3kw | 4kw |
| Number of cylinders | single | double |
| Motor Speed(r) | 1440r/m | 1440r/m |
| Pump lift(m) | 20-50m | 20-50m |
| Dimensions(mm) | 1250*430*850 | 1250*430*850 |
| Weight(kg) | 250 | 320 |
| Maximum pressure | 1.5MPa | 3MPa |
Piston Pump Working Principle:
The rotary motion of the mortar is transmitted to the crankshaft by a V-belt and a pair of gears and the piston is reciprocated by the connecting rod and the crosshead. The gearbox is closed and the moving parts are splash-lubricated.
The mortar is pumped into the air by the suction valve through the pump cylinder, and the air chamber is equipped with a pressure relief valve and a pressure safety device.
The piston pump adopts an electrical automatic control safety device.
When the air chamber pressure exceeds the rated working pressure, the main circuit is cut off by the control circuit, so that the motor automatically stops running.
Product Use and Features:
The piston pump can transport a variety of media such as cement slurry, yellow mud slurry, water glass, oil, and water.
It can be widely used in tunnels, mines, mining face grouting and water blocking, rock roadway, and concrete well wall grouting to block leaking water, tunnel cracks, broken rock mass, reinforcement, and reinforcement of loose rock, anchor grouting, backfill grouting, and prevention. The surface sinks prevent landslides, correct grouting by building deflections, etc.
The utility model has the advantages of a compact structure, reliable operation, low failure rate, convenient cleaning and maintenance, and high pumping pressure.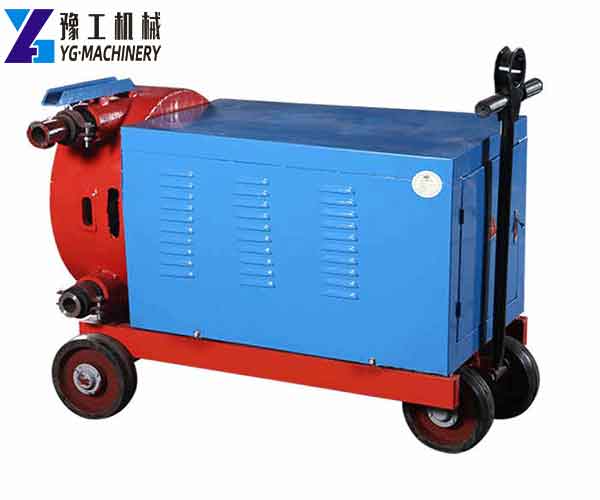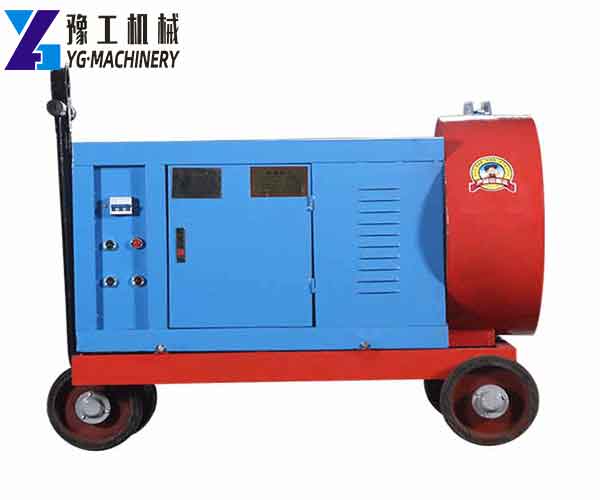 Piston Grout Pump
The piston grout pump can be called an extrusion pump, or hose extrusion pump, it can be used not only for long-distance transport of high-concentration and high-viscosity materials such as mortar, grout, and pulp but also for compressed air (pressure 4.4-0.6) Mpa. The gas volume is 0.3-0.6m3) and the spray gun can also be used for spraying work.
It is the ideal equipment for blast furnace spray repair and building wall spraying in mines, railways, highways, tunnels, hydropower projects, rock slopes, underground engineering, the chemical industry, and other industries.
Piston Grout Pump
Parameters:
Model
YG-2
YG-5
Pressure
0.3-0.8Mpa
0.3-0.8Mpa
Slurry outlet volume
2m³/h
5m³/h
Mixture proportion
1:0.5
Transportation distance
Vertical 30m   Horizontal 60m
Squeeze tube inner diameter
38mm
51mm
Transportation tube outer diameter
32mm
38mm
Motor power
3kw
4kw
Dimension
1100*600*500mm
1300*800*900mm
Weight
260kg
400kg
Piston Grout Pump Working Principle:
Since the extruded tube is U-shaped, the lower end of the tube is connected to the suction tube, and the pressure tube assembly is connected to the delivery tube;
When the squeeze wheel frame rotates, the squeeze roller is transported along the squeeze tube to perform planetary rotation and is squeezed on the squeeze tube for automatic rolling, and the slurry in the squeeze tube is squeezed and discharged along the transfer tube.
When the squeezing wheel passes, a vacuum is formed in the squeeze tube, and the slurry in the slurry tank is subjected to negative pressure and is sucked into the squeeze tube through the suction tube to be extruded. The boundary achieves the suction and discharge of the slurry.
Group Pump Features:
This type of extrusion grouting pump is compact in structure, easy to use, and easy to maintain;
High pressure, high efficiency, and wide application range;
It can not only inject mortar, cement slurry, air compressor, and spray gun but also spray work.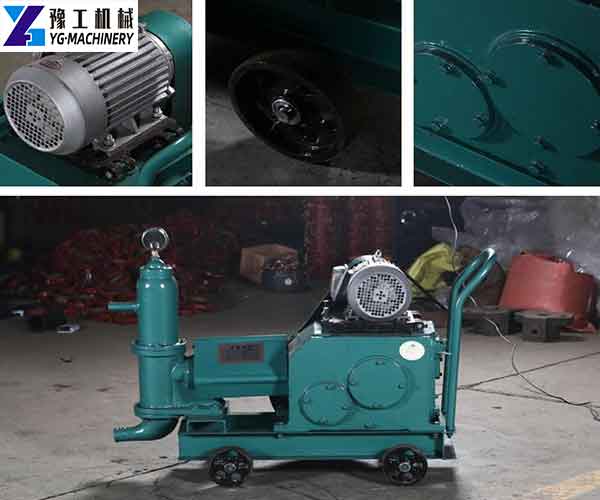 YG Machinery Reliable Piston Pump Manufacturers
Henan YG Machinery is a top and professional manufacturer of various small machinery, such as road machinery, construction machinery, cutting machinery and steel machinery, etc… We have specialized in the production of machinery for more than twenty years. We are devoted to research and development, production, and sales of road, bridge, mining, tunnel construction equipment, and some other machinery. We always adhere to the principle of quality first, customers first, service first, and safety first. It's because of our persistence and work philosophy that our machinery is not only welcomed in China but also exported to many countries and regions around the world. So if you are interested in our piston pump, please feel free to contact us for more details. We are looking forward to cooperating with you.
Henan YG Machinery Co., Ltd is a large-scale machinery manufacturing enterprise specializing in the research, development, production, and sales of mining, tunnel construction, road, and bridge construction equipment. We believe that good quality allows us to survive, so we only provide you with top products. All high-quality products are in line with international standards and are highly valued by domestic and foreign customers. All of our company's employees are professionally trained so we can recommend the most suitable equipment for you. Each machine undergoes a rigorous inspection before delivery. Any questions about the machine will be answered within 24 hours. Welcome to our new customer!【WhatsApp/WeChat/Phone/Skype】+86 136 1385 6800