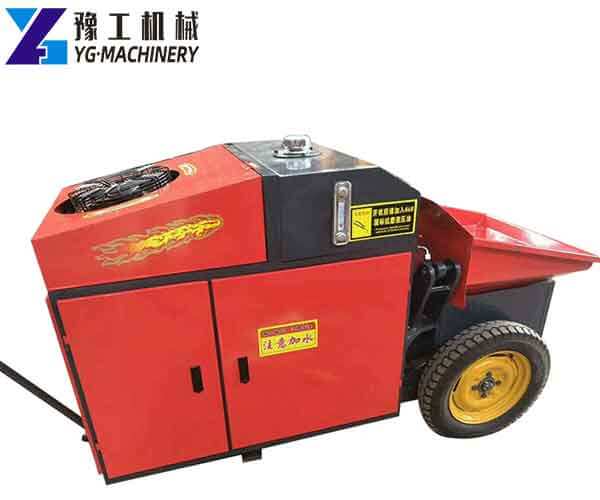 The newly developed small portable concrete pump can transport concrete, mortar, cement, fireproof materials, and so on. A small portable concrete pump is suitable for the transportation of fine stone concrete to the high-rise building floor column. It is the smallest concrete pump in China, mainly used for some special construction conditions or narrow sites, which is not convenient for work or difficult to complete the construction progress. The machine is widely used in-floor heating, heat insulation and lightweight foaming cement, transportation mortar and small orthopedic concrete, fire and heat insulation material transportation concrete scale transportation of various construction projects, transportation of high-rise building mortar and fine stone concrete, secondary structural column packing, various pressure grouting of reservoirs, hydropower stations, ports, wharves, foundation treatment, weak foundations, reinforced grouting, tunnels, subways, backfill grouting anchor support in mine construction, fine stone concrete in-floor heating engineering, special it is a large-area, high-efficiency filling layer or mortar filling layer construction.
Small Portable Concrete Pump Parameter:
| | |
| --- | --- |
| Output capacity | 6m3/h |
| Working form | S valve |
| Filling height | 0.7m |
| Particle size | 15mm max |
| Pressure Max | 15Mpa |
| Working pressure | 10Mpa |
| Hydraulic oil cooling | Air cooling |
| Vertical distance | 25m max |
| Horizontal distance | 40m max |
| Pipe diameter | 80mm |
Scope of Application of Secondary Construction Column Pump:
Small portable concrete pumps are widely used in water conservancy projects, hydropower projects, slope support, underground construction, foundation filling projects, construction of large-scale buildings, and construction of pillar-casting mortars. Low cost and high work efficiency save buyers a lot of manpower and material resources.
Secondary Construction Column Pump Manufacturer – YG Machinery
Henan YG Machinery Co., Ltd has been engaged in machinery manufacturing in China for more than 20 years. We are committed to the development of various rebar steel machinery, mining equipment, construction machinery, prestressed machinery, metallurgical machinery, and so on. And has more than 500 employees, including more than 50 senior technicians and 80 international sales personnel. We can provide high quality and professional services. We warmly welcome you from all sectors of the company and build a bright future for all of us.