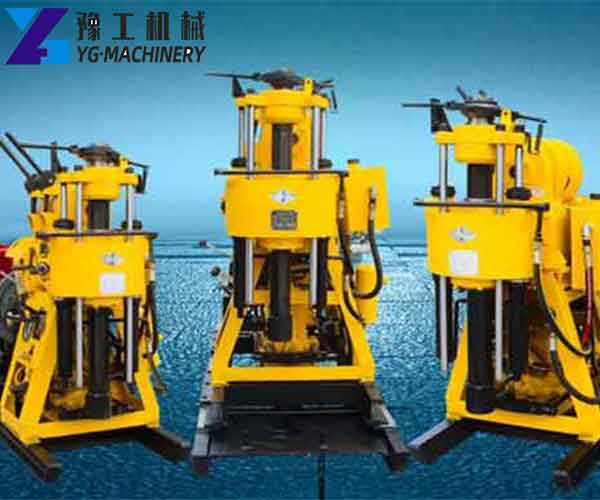 In August 2018, a customer from America sent us an email saying that he was very interested in our HZ series core drilling rig. After that, our sales manager recommended him and sent the parameters. He also told us the core drilling rig was very satisfactory, and then our sales manager made a quotation, the customer was very satisfied with the price. In the same month, customers from Honduras and Afghan also purchased the same core drilling rig. They are all full of praise for the quality and price of our machinery after using them. We are very happy to cooperate with them.【WhatsApp/WeChat/Phone/Skype】+86 136 1385 6800
Technical Parameter of the HZ Type Rock Core Drilling Equipment
| | | | |
| --- | --- | --- | --- |
| Model | HZ-130Y/130YY | HZ-180Y/180YY | HZ-200Y/200YY |
| Drilling Depth (m) | 130 | 180 | 200 |
| Open Drilling Diameter (mm) | 220 | 220 | 325 |
| Final Hole Diameter(mm) | 75 | 75 | 75 |
| Drill Pipe Diameter(mm) | 42-60 | 42-60 | 42-60 |
| Drill Pipe Inclination (°) | 90-75 | 90-75 | 90-75 |
| Power (kW) | 13.2 | 13.2 | 14.7 |
| Weight (kg) | 920 | 950 | 1150 |
| Dimensions(mm) | 2400*950*1400 | 2400*950*1400 | 2700*950*1770 |
Features of HZ Series Hydraulic Core Drilling Rig:
The HZ series hydraulic core drilling rig is a kind of portable drilling rig which is widely used. It is suitable for geological exploration of railways, water conservancies, bridges, dam foundations, geological core drilling, small grouting holes, blasting holes, water well drilling, diamonds, composite sheets, and alloys that can be drilled according to the different strata. It has a hydraulic automatic feeding mechanism to improve drilling efficiency and reduce labor intensity. The ball card clamping mechanism is used instead of the chuck, which can realize the non-stopping reverse, easy to operate, safe, and reliable.
Hydraulic Core Drilling Rig Manufacturer – YG Machinery
A core drilling rig machine is a kind of core drilling equipment, which is primarily used for the survey and exploration of metal and non-metallic solid minerals. In addition, it can also be used for engineering geological exploration, hydrogeological survey, and oil and gas field core drilling rigs machines are rotary drilling rigs because they require taking out relatively complete rock samples with non-mixed and non-flexible formations. In YG Machinery, you can definitely find the machine you want.
If you are not satisfied with this machine or would like to know about other machines, you can go to our homepage to search for water well drilling rigs, down-the-hole drilling rigs, rock drills, and crawler water well drilling rigs. If you want to know more information, you can always contact us, we will reply as soon as possible, to provide you with the best quality drilling rig and the best quality service.【WhatsApp/WeChat/Phone/Skype】+86 136 1385 6800