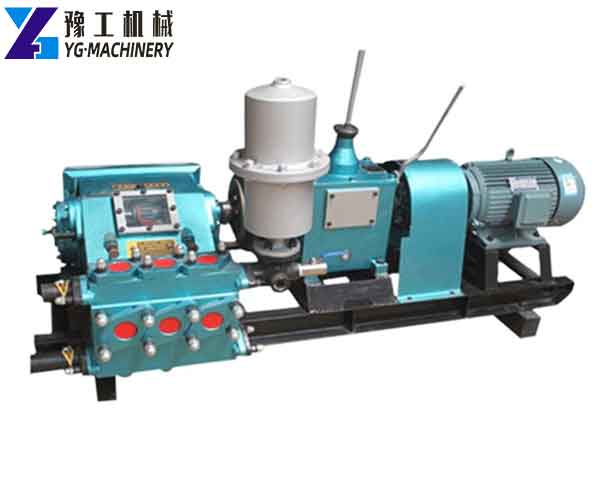 The mud pump refers to a machine that transports mud or water and other flushing fluid into the borehole during drilling. The mud pump is an important part of drilling equipment and the mud pump for sale in YG Machinery. In the commonly used positive circulation drilling, it is to send the surface flushing medium-clear water, mud, or polymer flushing liquid to the bottom end of the drill bit through a high-pressure hose, a faucet, and a drill pipe center hole under a certain pressure to cool the drill bit. The cutting debris is removed and transported to the surface. The commonly used mud pump is a piston-type or a plunger type, and the crankshaft of the pump is driven by the power machine, and the crankshaft passes the crosshead to drive the piston or the plunger to reciprocate in the pump cylinder. Under the alternating action of the suction and discharge valves, the purpose of pumping and circulating the flushing liquid is achieved.【Whatsapp/Wechat/Phone/Skype】+86 136 1385 6800
| | | | | |
| --- | --- | --- | --- | --- |
| Model | YG150 | YG160 | YG250 | YG320 |
| Output | 150L/min | 160L/min | 250L/min | 320L/min |
| Pressure | 7Mpa | 10Mpa | 6Mpa | 8Mpa |
| Power | 7.5kw | 11kw | 15kw | 30kw |
| Suction Pipe Diameter | 51mm | 51mm | 76mm | 76mm |
| Drain Pipe Diameter | 32mm | 32mm | 51mm | 51mm |
| Weight | 560kg | 480kg | 760kg | 1000kg |
| Size | 1840*795*995mm | 1100*995*950mm | 1725*1240*1130mm | 1905*1100*1200mm |
The Use of Mud Pump:
Drain mud, sewage, and water.
The drilling machine delivers cleaning fluid.
Feature:
The pump is a horizontal three-cylinder reciprocating single-acting piston pump.
The pump can be motor or diesel.
The pump has the characteristics of stable operation, wide flow variation range, high output pressure, and stable performance.
High efficiency and energy saving.
Detachable, easy to repair, and relocate.
Uniform flow, low-pressure fluctuations.
Mud Pump Precautions:
Before starting the mud pump, please check if the inlet pipe and outlet pipe are blocked. If the bearing is filled with butter before and after, check if the packing is full. The mud pump should be equipped with a high-pressure clean water pump to transport the clean water than the mud pump pressure to the leak-proof packing to protect the packing. The mud pump should not be closed when the mud pump is working. Otherwise, the sealing part will wear quickly. Whether the gap between the impeller and the guard plate is reasonable has a great influence on the life of the mud pump. If the gap is unreasonable, vibration and noise will occur when the pump is running, and the overcurrent components will be damaged quickly. Therefore, when replacing the impeller, care should be taken to ensure that the clearance meets the requirements of the drawing. The clearance adjustment can be performed by adjusting the screws on the rear bearing body. The allowable suction stroke of the mud pump is measured when the clean water is delivered. The effect of the mud on the suction capacity should be considered when pumping the mud.
Operating Procedures:
Check before starting: The connection parts should be tightened; the direction of the electric rotation should be correct; the clutch is flexible and reliable; the pipeline connection is firm, the seal is reliable, and the bottom valve is flexible and effective.
Before the submerged mud pump is started, the suction pipe, the bottom valve, and the pump body must be filled with water, and the upper end of the pressure gauge buffer is filled with oil.
Rotate by hand to make the piston reciprocate twice. If there is no obstruction and the line insulation is good, it can be started without load. After starting, the load will be gradually increased after the operation is normal.
Pay attention to the sealing of each sealing device during operation and adjust if necessary. Pull rods and auxiliary rods should always be lubricated with oil.
The mud content of the mud should not be tested to more than 10% during operation.
There are several speed mud pumps to make the splash lubrication reliable and should run at several speeds in each shift, the time is not less than 30 seconds.
It is strictly forbidden to shift gears during operation. When shifting is required, the pump should be stopped.
Mud Pump for Sale in YG Machinery Manufacturer
Henan YG Machinery is a top and professional manufacturer of various drilling machines, such as small water well drilling machines, rock drill machines, core drilling machines, DTH drilling machines, etc… We have specialized in the production of machinery for more than twenty years. We are devoted to research and development, production, and sales of road, bridge, mining, tunnel construction equipment, and some other machinery. We always adhere to the principle of quality first, customers first, service first, and safety first. It's because of our persistence and work philosophy that our machinery is not only welcomed in China but also exported to many countries and regions around the world. So if are interested in our mud pump, please feel free to contact us for more details. We are looking forward to cooperating with you.【Whatsapp/Wechat/Phone/Skype】+86 136 1385 6800